If you feel you or someone you know has fallen for a scam of some type, please call our office at 563-242-9211, Ext. 4433 or email us at
[email protected]
.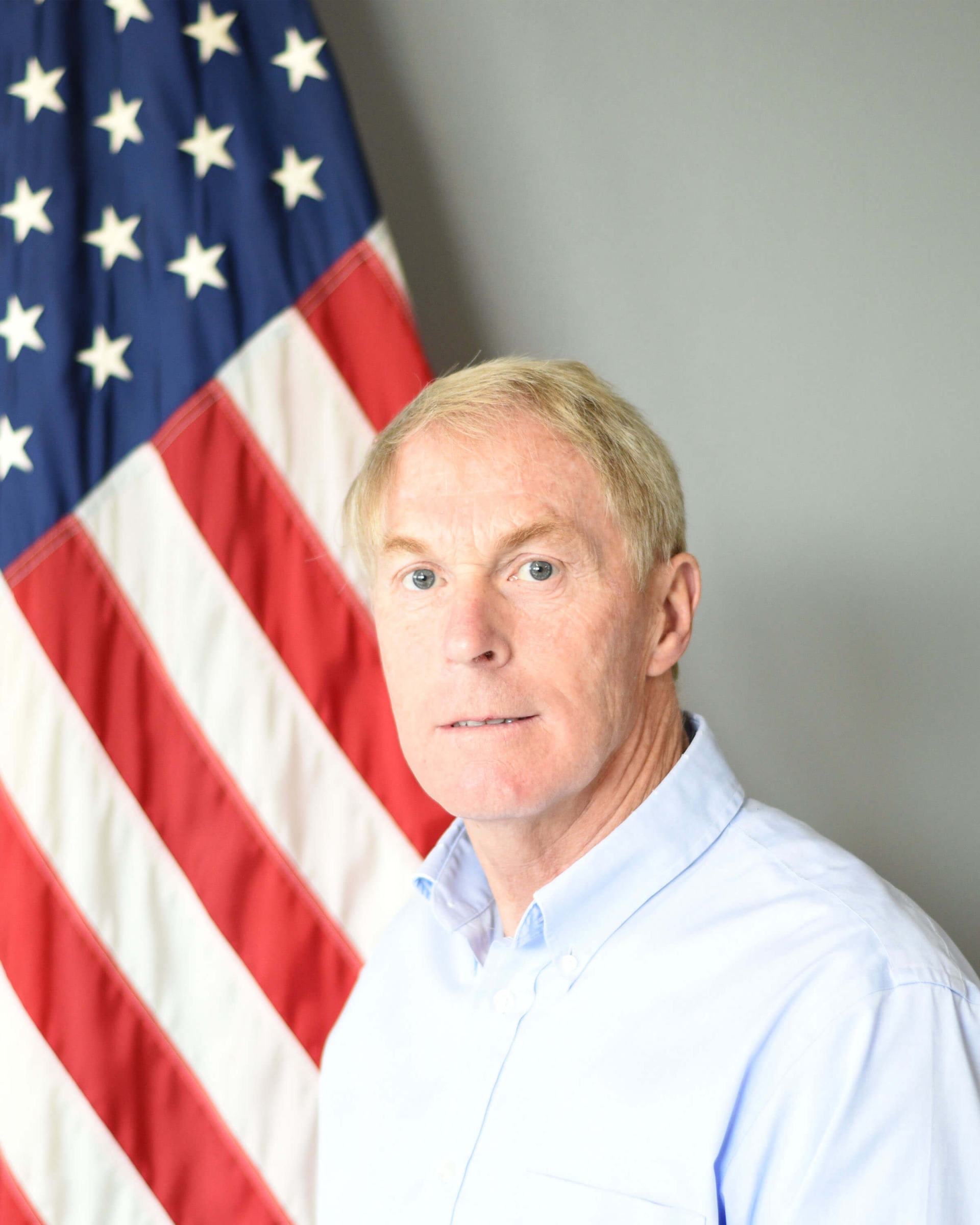 About Seniors vs. Crime
What is "Seniors vs. Crime/Triad"?
The program started in September of 1994 and works out of the Clinton County Sheriff's Office. Since its beginning many presentations have been given to senior groups and other local service organizations. In October of 1996, Attorney General Tom Miller signed the TRIAD agreement making Iowa the 45th State to do so. November, 1996 saw Clinton County become the 7th county in Iowa to sign a local agreement between the Camanche, Clinton, DeWitt Police Departments, Clinton County Sheriff's Office, and the local AARP chapter.
Why is Seniors vs. Crime Necessary?
Older Americans comprise the fastest growing segment of the population. The older population-persons 65 and older- number 37.3 million in 2006. That is 12 % of the population, about one in every 8 Americans. In Clinton County, out of approximately a 50,000 population, 8,000 of them are 65 and older. Iowa is 3rd in the nation with persons 85 and older and 4th with those 65 and older. The population of Iowans 80 and over is increasing more rapidly than any other age group.
Individual Assistance
The director is available to offer individual assistance with questions about fraud and scam, or to discuss concerns if an individual feels they have been or may become the victim of fraud.
Cell Phones for Seniors
911 cell phones are distributed free to seniors and others with a need for emergency calls, just contact our office. We accept the donation of old cell phones for the program. Phones not used in the program are recycled.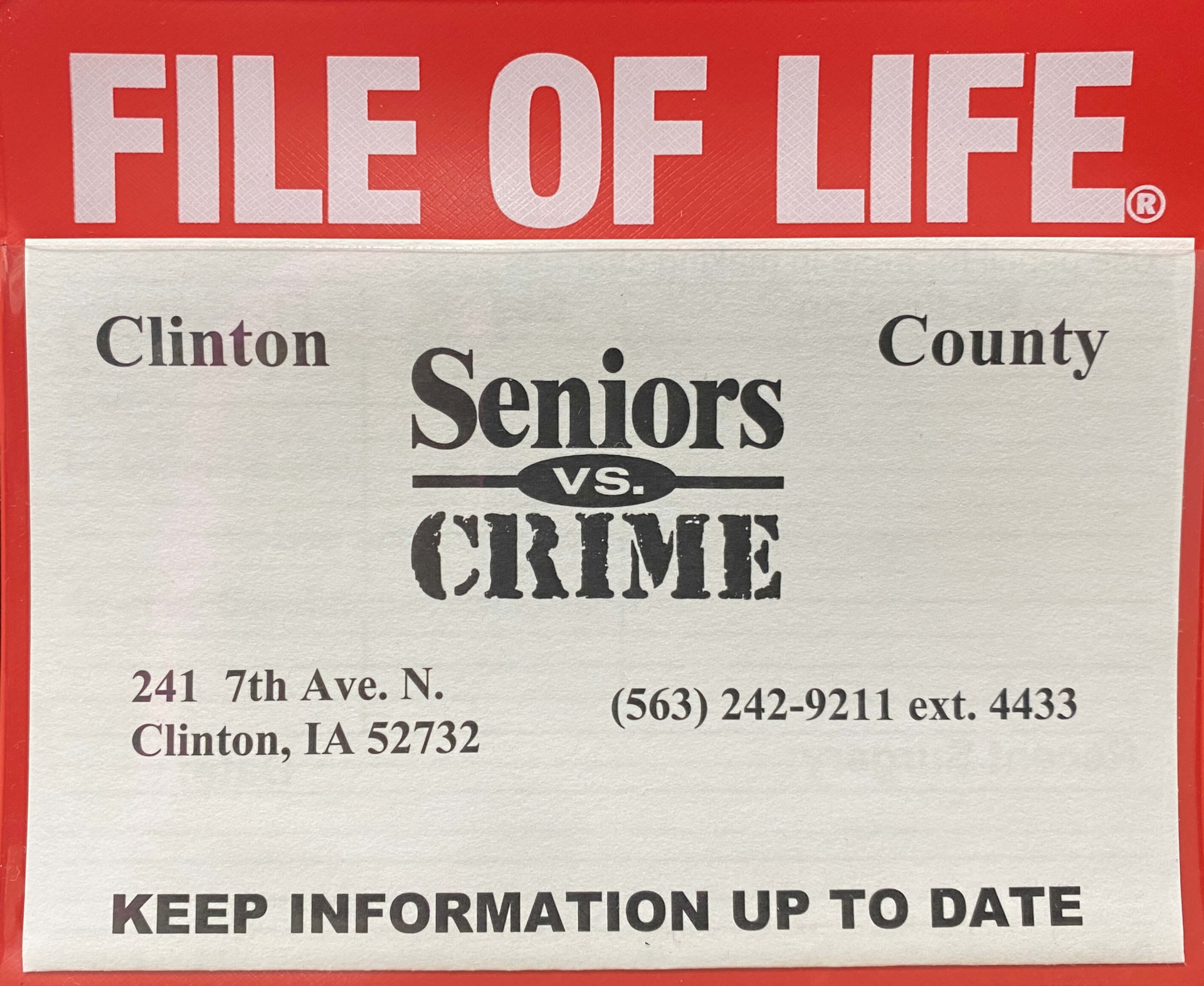 File of Life
This emergency information form slips into a red magnetic packet that attaches to the front of your refrigerator. When completed, this form contains emergency information such as medical conditions, medications taken, allergies, doctor's name and phone number, and family or friend's names and phone numbers. Emergency responders will send the packet in the ambulance to the Emergency Room in order to assist the health care professionals in providing appropriate and timely care.
Medication Disposal
Seniors vs. Crime and the Clinton County Sheriff's Office work closely with the Gateway Impact Coalition, a community coalition dedicated to finding and implementing solutions to substance abuse issues.
How Can I Protect Myself?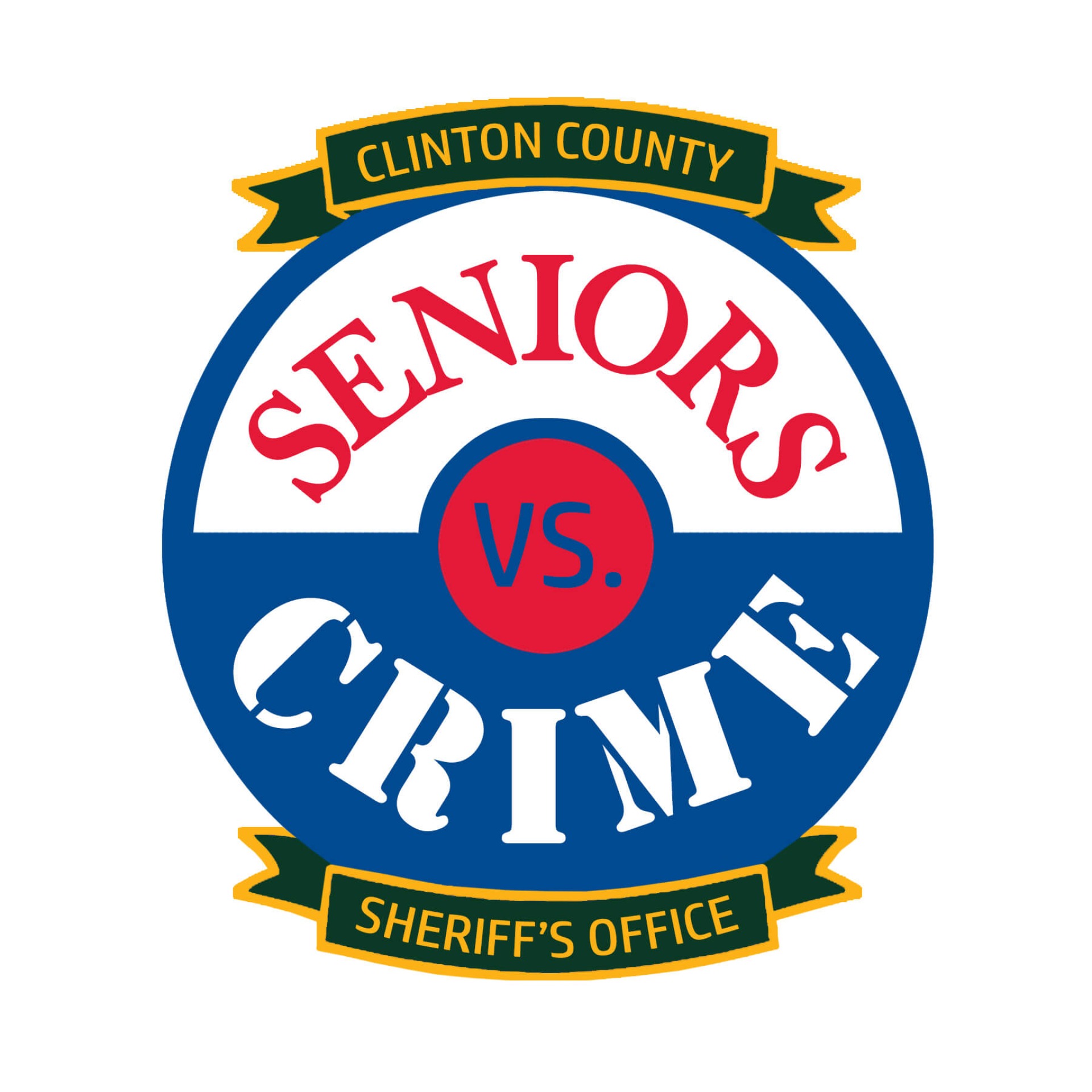 Limit telemarketers by registering on the Federal Do Not Call List
Call 1-888-382-1222 from the phone you wish to register or go to www.donotcall.gov. There are 4 exceptions to the regulations: surveys, political calls, charities, and businesses that you have had dealings with in the last 18 months. Both charities and businesses must maintain their own No Call List. You may ask each one to "put you on their no call list" when they call. It takes about 30 days to take full effect.
Never give out personal financial information
Never tell a stranger over the phone your Social Security, Medicare, credit card numbers, date of birth, or the account and routing numbers from the bottom of your bank check.
Delete fake sweepstakes & lottery email award notices.
Do not be pressured to "act now." Ask for promotional information to be mailed to you so you may view it at your leisure.
Be cautious of sweepstakes. By law, it does not increase your odds of winning by making a purchase.
Beware of home repair scams. If you do not know the contractor, ask for references. If they want money up front, make the check out to both the contractor and the supply company.
For a contract written at your home, you have the right to cancel in 3 business days.
If it sounds too good to be true, it probably is!
Hours
Monday - Friday
8:00 a.m. - 4:00 p.m.
Open through the lunch hour
Holiday Closures
Map & Directions